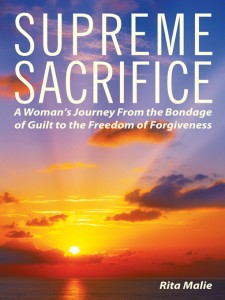 This is from a recently published guest blogpost from
Rita Malie
, award-winning author of
Goodbye America
and
Supreme Sacrifice
. The post can be seen in it's entirety here: http://www.breakingthecycles.com/blog/2012/02/13/an-adult-child-of-an-alcoholic-shares-her-story/
Her book,
Supreme Sacrifice
, chronicles her experiences as a child of an alcoholic and her journey of forgiveness and healing.
Rita Malie says,
"For children growing up in an alcoholic home, we can never truly be children. Since our parents were so consumed with their own problems, someone had to be responsible, and that someone was us. Like Janet Geringer Woititiz, author of Adult Children of Alcoholics, writes, 'The child of an alcoholic has no age.'

While it took me years to escape the shame and guilt attached to my father's alcoholism, I hope that today's children can use my story, and the stories of countless others, for comfort and hope. My story is just one of millions, and there is a large community of supporters ready to listen. You are not alone."
Rita's words are inspiring and if that's any indication, the book will be as well.
Check out the Orange County ACA website at:
Orange County Adult Children